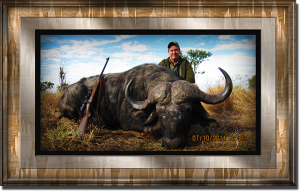 SAFARI 550 DANGEROUS GAME RIFLE
AMERICAN HUNTING RIFLES SAFARI 550 DGR (Dangerous Game Rifle)  is based on the double square bridge CZ-550 Magnum action with integral dovetail scope mounts, controlled-feed claw extractor, match grade Chrome Moly barrel using AHR contour, and glass bedded into our own AAA Fancy English walnut stock. We blueprint the receiver, lap the bolt lugs and true the receiver face for perfect barrel to receiver alignment. We install our own crisp, single stage trigger as standard. This trigger lies to the rear of the trigger guard and is always in perfect shooting position. The safety is a wing type 3-position located on the bolt sleeve that blocks the firing pin when on safe.  Rear sight is a sturdy, fixed blade with a shallow V-notch, and front sight is a banded ramp with fiber optic bead and hood. Satin Gunkote finish is standard on all metal finishes. Also standard is a barrel-band front sling attachment.
We make our stocks using select-picked AAA Fancy Grade English walnut, rear sling stud, Macassar Ebony fore-end tip, steel grip cap, 2 cross bolts and a 1″ Decelerator recoil pad. Stocks can be ordered with or without cheek piece. Our checkering is a point pattern, 22-lines-per-inch on fore end and grip. Our stocks are all hand selected for their strength, integrity and beauty.
The Safari 550 DGR comes in the following calibers:
   375 H & H                                              458 Lott                                       
   375 RUM                                                450 Rigby                                 577 T-Rex
   375 Weatherby                                    470 Capstick                           600 Overkill
   400 H & H                                             500 Jeffery                               700 AHR 
   404 Jeffery                                           500 AHR                                     
   416 Rem Mag                                        500 A-square                            All Dakotas
   416 Rigby                                                505 Gibbs                                   All Weatherbys
458 Win Mag                                           550 Magnum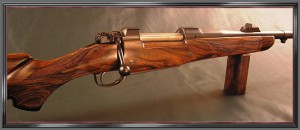 Starting price for Safari 550 DGR with AAA English Walnut Stock

Starting price for Safari 550 DGR with AHR Fiberglass stock


$6,700.00

$6,700.00

 

600 Overkill with AAA English Walnut stock

600 Overkill with AHR Fiberglass stock

$7,500.00

$7,500.00

Custom Options include:

  (Add to base price, your following choices):

 

Add fiberglass stock to your wood stocked rifle

$1,600.00

Proprietary removable muzzle brake (X-Brake) and muzzle cap up to .50 cal- Installed

 $400.00

X-Brake for Calibers 550 and larger- Installed

$500

.00

Muzzle cap–thread protector

$125.00

Quarter rib with 1 fixed / 1 folding rear sight.

$700.00

Quarter rib with dove-tails for Talley detachable scope rings.  (See 700 AHR page)

$800.00

Upgrade stock to exhibition grade English walnut 

Quote upon request.

Upgrade checkering to AHR fancy pattern with ribbons and fleur de lis. 

Add $395.00

600 Overkill DGR shown with  Granite Mountain Arms receiver and optional Fluer de Lis checkering