AHR's own Fiberglass Stocks
  After being frustrated for so long about the poor selection of synthetic stocks on the market for the CZ 550, I decided to make our own. I wanted a stock that was extremely strong, felt good in the hands, and had the "Old English" look like the premium wood stocks that we make. In fact, we used one of our English Walnut DGR stocks for the pattern for the molds.
  The stocks are made with hand-laid fiberglass one at a time and solid-epoxy filled; there is no foam filler forward of the grip cap. The stocks aren't lightweights, they weigh about the same as an English Walnut stock, 2-1/2 lbs.+/-. This is critical to keep the proper balance that is so important in a DGR. These are not "drop-in", one-size-fits-all stocks. The epoxy interior of each stock is poured around your individual barreled action for a perfect fit; there is no glass bedding required. As I said, these are not "drop-ins", so we don't sell the stocks by themselves. We will install one on your barreled action though. We also offer them as an option on our custom DGR's and our CZ # 3 upgrades. Order a custom DGR with a wood stock and our fiberglass stock and be ready for any weather conditions. Also, your wood stock and glass stock will be exactly the same.
The stocks come with the following features: Solid epoxy fill, hidden or exposed cross-bolts, open grip, wide comb, large Pachmayr Decellerator recoil pad, cast-off and toe-out, and several color choices.  We can also add Mercury recoil reducers.
We are now building stocks for the Granite Mountain Arms Magnum, African Magnum, and Winchester Model 70 pre and post '64.
Click on thumbnails

505 Gibbs caliber in the CZ 550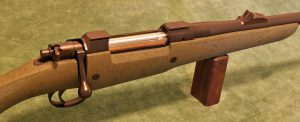 416 Rigby in a BRNO #3 upgrade
 English Pancake style cheek-piece                       Traditional shadowline  
                                        Winchester Model 70 pre and post '64